By Scott Barancik, Editor
Here are your minor-league highlights from the week of May 1-7, 2017: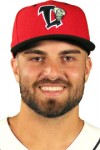 Jewish Baseball News Hitter of the Week: Jake Thomas
LF Jake Thomas (Blue Jays/A) hit .375 (3-for-8) last week and drew two walks in each of the three games he played. Thanks to his prodigious walking — Thomas is drawing a base on balls 34.2% of the time he comes to the plate — he leads all minor-leaguers with a .553 on-base percentage. The next best OBP among players with at least 70 plate appearances is .491. Thomas also is batting a healthy .319.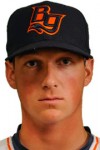 Jewish Baseball News Pitcher of the Week: Kenny Rosenberg
Maybe P Kenny Rosenberg (Rays/A) is better off in the bullpen at this point in his career. After three rough starts followed by a decent one on May 2 (4 IP, 3 H, 1 ER, 3 BB, 6 K), the 21-year-old plowed through his opponents in a May 7 relief appearance, pitching 4 shutout innings on 6 strikeouts while yielding just 2 hits, walking none, and earning his third career save in three chances.
Other highlights
Transactions
Free agents
Disabled list
Get your Jewish baseball news via e-mail