By Scott Barancik, Editor
Here are your minor-league highlights from the week of April 23-29, 2018:
Jewish Baseball News Hitter of the Week: None
No standout performances worth noting last week.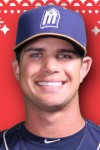 Jewish Baseball News Pitcher of the Week: Robert Stock
P Robert Stock (Padres/AA) had 2 perfect relief appearances, yielding no hits or walks across 2 total innings and earning his first save of the season. He is 1-0 with a 2.00 ERA this season, has struck out 15 batters against 3 walks and earned a WHIP (walks/hits per inning) of 1.11. Earlier today (April 30), Stock was promoted to Triple-A for the first time in his pro career.
Mazel tov
Three members of Team Israel's 2017 World Baseball Classic roster — Zach Borenstein*, Cody Decker* and Ty Kelly* — each have six HRs so far this season, tying them for 4th best in the Pacific Coast League (AAA).
P Corey Baker, who recently retired after a distinguished career as a St. Louis Cardinals prospect (and member of Team Israel in the 2017 World Baseball Classic), is earning plaudits as the Minnesota Twins' new replay coordinator.
Other highlights
Transactions
Free agents
Disabled list
Note to readers: Minor-League Monday does not include stats for all current Jewish minor-leaguers. Click here for a complete list of players, and then click on a player's name to be taken to his stat page.
Members of Team Israel's 2017 squad are marked with an asterisk.
Get your Jewish baseball news via e-mail