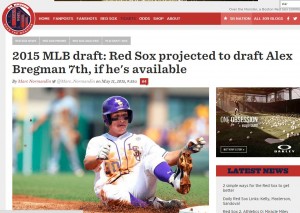 By Scott Barancik, Editor
Alex Bregman, a junior at No. 1 ranked Louisiana State University and the team's star shortstop (see bio), is projected to be picked no later than 7th overall in next month's MLB amateur draft.
Four top prognosticators have weighed-in on the draft in recent days, and all of them repeated the rumor that the Boston Red Sox are eager to land the 21-year-old New Mexico native with the 7th pick of the 1st round. Whether Bregman will last that long remains to be seen.
The last Jewish draftee in the Top 10 was high-school pitcher Max Fried, who earned a $3-million bonus when the San Diego Padres made him the #7 overall pick in 2012.
So far this season, the 6'0″, 186-pound Bregman is hitting .335 with 8 HRs (tied for #2 on the Tigers), 42 RBIs (#3), 22 doubles (#1), a .422 on-base percentage (#1), a .584 slugging percentage (#1), and 29 stolen bases (#1).
Marc Normandin of SB Nation wrote May 11 that Bregman is "the kind of player who could make a few all-star teams in their day, if things break right."
Want our daily updates sent free to your e-mailbox? Click here