What's new in the world of baseball?
The current tally of Jewish players selected in this week's MLB draft has reached 15 (see below). The list includes the first Israeli draftee ever, Padres pick Dean Kremer. Click here to see our 2014 interview with him.
As we continue receiving tips from readers, the number of draft picks verified as Jewish is likely to grow. Check the "Jewish draft picks" box on our home page for updates.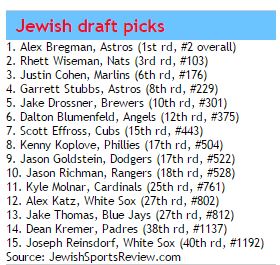 The Reds have released P Jason Marquis, who becomes a free agent.
Dodgers rookie phenom Joc Pederson walked twice Wednesday (6/10/2015) and robbed Arizona's Yasmany Tomas of what would've been a game-tying home run (see video).
That's rare: A's farmhand Nate Freiman (AAA) did something Tuesday he hadn't done since 2011: stole a base. 
Want our daily updates sent free to your e-mailbox? Click here