August 27, 2016 (Saturday)
By Scott Barancik, Editor
When Team Israel steps onto the field September 22 for the World Baseball Classic qualifying round in Brooklyn, the roster will feature well-known names and a few surprises.
Because the qualifying round takes place during the Major League season, current MLB players like Toronto's Kevin Pillar, Houston's Alex Bregman, and Detroit's Ian Kinsler aren't available. But if Israel makes it to the final WBC tournament, which takes place during the MLB's offseason, we're likely to see many such stars participate.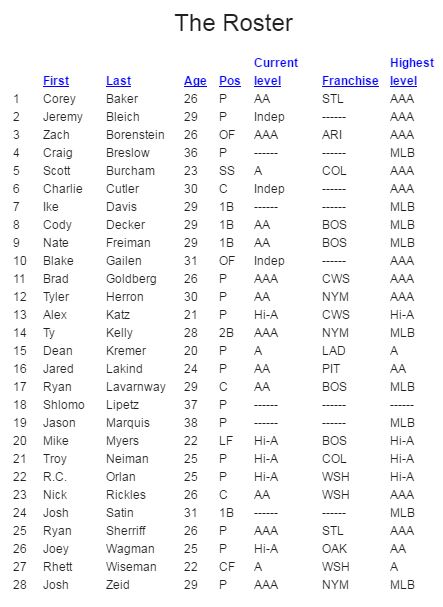 Here are some things you should know about the just-announced 28-man roster:
Nine of the 28 players have MLB experience, and another 10 have reached as high as Triple-A.
Twenty players are currently playing minor-league ball for an MLB franchise. They include three prospects each with the Boston Red Sox, Washington Nationals and New York Mets. (Our chart shown at left incorrectly lists Toronto Blue Jays farmhand Ryan Lavarnway as a Boston Red Sox prospect.)
The athletes range in age from 20 (Los Angeles Dodgers prospect Dean Kremer) to 38 (retired 15-year pro Jason Marquis).
Six are players never before mentioned on the pages of Jewish Baseball News, men who may or may not identify as Jewish but inherently qualify for Team Israel because they have at least one Jewish grandparent. They include SS Scott Burcham, OF Blake Gailen, P Tyler Herron, P Troy Neiman, P Joey Wagman, and 2B Ty Kelly, who made his MLB debut earlier this year with the New York Mets. In coming weeks, Jewish Baseball News hopes to determine which, if any, of these players identifies as Jewish, and then share that information with you.
Only two players are Israeli citizens, and both spend most the year in the United States. They are 37-year-old pitcher Shlomo Lipetz, and Dodgers prospect Dean Kremer, who has starred for the Israeli national team and, earlier this year, became the first Israeli citizen ever drafted by an MLB team. (Ryan Braun's father is Israeli, but Braun is not an Israeli citizen.)
A number of promising Jewish prospects were left off Israel's roster, and for a variety of reasons. Some were prohibited from playing by their MLB club because they are a potential September call-up (e.g., Richard Bleier), are starring for a playoffs-bound minor-league team, or are at risk of fatigue (especially pitchers). Some chose not to play or had conflicts, such as Fall school plans.
As the qualifying round draws closer, Israel's roster is likely to undergo some additional revisions. Team Israel has assembled an informal 'reserve' list of talented players.
Team Israel's qualifying round opponents include Pakistan, Brazil, and Great Britain. Its first game will take place September 22 against Great Britain. You can purchase tickets to that game and others online.
# # #
Get your Jewish Baseball News updates via e-mail