Joc Pederson, Harrison Bader among recent WBC commits
July 21, 2022 (Thursday)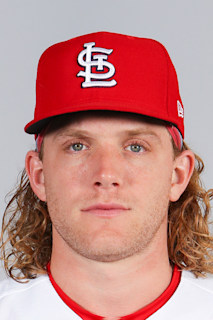 By Scott Barancik, editor
The last time Israel played in the World Baseball Classic — which also happened to be the first time, in 2017 — the biggest names on its roster were Ike Davis, Sam Fuld, and Jason Marquis, all of whom had retired from pro ball.
The 2023 WBC will be different.
Last week, Team Israel manager Ian Kinsler revealed that slugger Joc Pederson — dubbed "Joctober" for his World Series heroics — will play outfield at the quadrennial tourney, in March. Since then, Jewish Baseball News has learned of at least three other current Major Leaguers who will join the Giants' left fielder:
OF Harrison Bader (Cardinals). A 3rd-round pick in the 2015 draft, Bader made quick work of the minors and went on to finish #6 in voting for 2018 N.L. Rookie of the Year. An elite gloveman, he is one of just three N.L. centerfielders who have yet to make an error in 2022.
P Dean Kremer (Orioles). The son of Israelis who moved to the U.S. after completing their military service, Kremer is 3-1 with a 2.59 ERA in 8 starts this season. At one juncture in 2022, he recorded an eye-popping 23.1 straight scoreless innings.
P Richard Bleier (Marlins). A middle reliever who recorded sub-2.00 ERAs in each of his first three Major League seasons, Bleier has a career record of 14-5 with a 3.08 ERA and just 1.185 walks/hits per inning.
All but Bader have donned the blue-and-white uniform before, although as minor leaguers. Pederson and Bleier competed for Israel in the qualifiers for the 2013 WBC. Kremer pitched in the 2017 tournament.
Still more Major Leaguers are expected to join Israel's roster in the weeks and months to come. "We have been in contact with all of the available players, and Joc is going to talk to them as well," Kinsler said. "There is a whole winter and offseason as well to communicate with them."
Who can we thank for this largesse? Kinsler has played a key role. A 4-time All-Star and 2-time Gold Glove winner who competed in the 2018 World Series and currently serves as special assistant for baseball operations and player development with the San Diego Padres, Kinsler brings star power and credibility to the team. Add to that his growing appreciation for the country and ongoing relationships with Major League athletes, and you have a manager who can recruit.
Peter Kurz, Team Israel's general manager and president of the Israel Association of Baseball, has been cultivating relationships with Jewish ballplayers for more than a decade. For evidence of his persuasive power, look no further than the 2020 Tokyo Olympics, when Kurz did the unimaginable: convincing more than a dozen American Jews, including Kinsler, to obtain Israeli citizenship. (Unlike the WBC, Olympic rules requires athletes to be citizens of the country they play for.)
The final piece in the recruiting puzzle? Team Israel itself. Prior to the 2017 WBC, Israel's baseball team was ranked #41 in the world. Convincing MLB talent to join its roster was a tall order, especially if they had a chance to play for Team USA.
Things rapidly improved, however. After finishing 6th among 16 teams at the 2017 WBC, Israel climbed from the depths of the European B Pool to qualify for the 2020 Tokyo Olympics, finished 5th there, and concluded the 2021 European Championships in 2nd place.
Team Israel will need all the talent it can muster to achieve success at the 2023 WBC. Currently ranked #20 in the world, Israel has been assigned to Pool D, which includes 2013 WBC champion Dominican Republic; 2017 WBC runner-up Puerto Rico; and Venezuela, the world's 6th-ranked team. If Israel gets out of there alive, even tougher opponents lie ahead, including juggernauts USA (which won the 2017 WBC) and Japan.
But the addition of Pederson, Kremer, Bleier, and Bader — who has yet to publicly declare himself exclusively Jewish, and thus is not listed by Jewish Baseball News — is a big step forward for Israel baseball.
# # #
For the latest information from Jewish Baseball News, follow us on Facebook, Twitter or Instagram
You also can get selected updates via e-mail