April 11, 2013 (Thursday)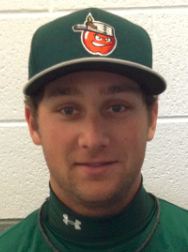 Going shopping? Please use our Amazon.com
 link
————————————————————————
By Scott Barancik/Jewish Baseball News
One of the minor leagues' most intriguing (and proudly Jewish) young players today is Maxx Tissenbaum, a 21-year-old prospect with the San Diego Padres. And not just because he's a sure-handed infielder, tough out, and base-on-balls machine.
The switch-hitting Toronto native is an excellent writer, too. It's our good fortune that Maxx has agreed to start blogging at Jewish Baseball News. As you can see from prior entries on his WordPress site, he offers a peek into the world of minor-league baseball that only a player can, and frequently .
Below is a short note to you from Maxx, plus his first blog entry. We hope you enjoy it as much as we did. If you do, please leave Maxx a comment and share his blog with a friend.# # #
By Maxx Tissenbaum/Special to Jewish Baseball News
Hi, I'm Maxx Tissenbaum and I'll be posting here on Jewish Baseball News now, as I've been invited to share my stories with this new audience. I began keeping a blog last summer because my mother, Lisa Taerk, told me it would be a good way for me to keep track of the stories, memories and lessons learned along my journey through the Minor Leagues.
Baseball and Judaism have long been intertwined in my family and my life. I grew up going to synagogue during High Holidays knowing I would miss parts of all the playoff games I wanted to watch. I would sit with my Zidie, with all of his friends at our synagogue and after services we would discuss our favorite topic, baseball.
When it became time to celebrate my Bar Mitzvah, I figured there was no place on earth I'd rather have the reception than at a Blue Jays game, so technically speaking I had the 2004 Blue Jays and Yankees rosters celebrate with me and my family.
I was lucky enough to participate in a Maccabiah when I was 16, which was an experience I'll never forget. The week we spent in Los Angeles was lots of fun, and a very cool way for me to connect my religion and baseball once again.
I'm currently playing in my first full professional season after being drafted by the San Diego Padres 345th overall (11th Round) in June. I currently play for the Fort Wayne TinCaps (Class A), where I actually am teammates with another Jewish Max, Max Fried. We have become good friends and his name will also pop up a lot in my writing as we live together in Fort Wayne.
I hope you enjoy reading my stories, and following this journey that I love so much! Feel free to comment on any of my posts and I'll do my best to answer as quickly and thoroughly as I can!
# # #
Maxx Tissenbaum's blog (April 9, 2013)
The last two weeks have been an absolute whirlwind, between the end of Spring Training and the start of the regular season there are too many things for a person to actually process at one time. I've written this post from notes that I wrote myself either in my phone or on my Ipod because quiet frankly as the stories unfolded they changed, and changed again and then finally became something solid. That being said, bear with me if some of this seems like disjointed mumbo-jumbo.
As Spring Training drew to its final week we were reassigned to our likely Opening Day rosters. We began to play as a unit that would eventually fly north together to get a feel for each other on the diamond. Our team got a huge boost when Scooter (Stephen Carmon, from my Eugene team last summer) was taken off the rehab roster and given the go-ahead to participate in full. Scooter and I developed very solid chemistry last season and turned a lot of big double plays as the season wound down. I was really excited to have him back because knowing my shortstop's tendencies becomes a major issue when a giant first baseman is barreling down on me as I try to turn two. We started talking half jokingly that we were going to try and break the league record for double plays turned. I say half jokingly because he is very sarcastic in his nature, and we're both very confident in each other up the middle.
Then there were the last minute cuts, which obviously were a major bummer. Again, the last four days had proven to be a similar series of highs and lows. Guys we were pulling for to make our team going both ways, some making the team and others being reassigned to Extended Spring Training. We saw Ronnie Richardson, who lead us on so many huge comebacks last summer. slide off our roster, but he handled it like a true professional and I have no doubt that he'll be up here soon doing his patented walk-off home run trot.
As this whole juggling act went on we began to form groups of players that would eventually become roommates once we arrived. I originally was going to live with Dane Phillips, Brian Adams and Scooter, but when Baltz got moved back to our team from the Lake Elsinore roster he had been playing with all spring, that changed. Rosters then began to dictate living arrangements. Matt Shepherd and I agreed to live together, and had talked to Matt Chabot from our Eugene team about joining us. When he was reassigned the plan changed again and we chose to get an apartment with Walker Weickel and Max Fried. We had all discussed rooming together earlier in the spring, and somehow had come full circle.
The last day of Spring Training we played a morning game against the Dodgers at Camelback Ranch and we got no-hit. The game seemed to be totally secondary as everyone seemed to be more focused on our flights north the next morning. We showered back at the complex and then emptied our lockers. The garbage cans were overflowing with half empty bags of sunflower seeds, empty cans of dip, old cleats, batting gloves and broken bats that had managed to stick around for locker room games. I went to sleep at 8:30 pm because we were scheduled to leave the hotel at 2:30 am for our 5:00 am flight. We flew in typical Minor League fashion, hopping between cities on connecting flights from Phoenix to Houston to Chicago and finally Fort Wayne.
We arrived in the middle of the afternoon and were told that the ballpark/clubhouse would be closed. As soon as Shepherd and I dropped off our bags we headed to the ballpark to walk around and take in our new home. To say the ballpark blew us away is the understatement of the century. Walking up to the center field gate we immediately were able to see our new stadium's most notable feature. In right field there is a parking garage beyond the outfield seating, and built onto the side of the building is the scoreboard and a seating area called "The Treetops." We each pulled out our cameras and began snapping pictures of everything.
I wish I knew how to post a bunch of pictures in an album because I have about 30 that really show every part of the ballpark, from its intricate angles in the outfield to the seating bowl and everything in between. We eventually made our way down to the dugout where we met up with Mallex Smith and Joe Ross. Right as we were about to leave, our trainer Ricky showed up to drop his stuff off in the "closed" clubhouse. We followed him into the clubhouse knowing it would be open for him and so we piled into the labyrinth beneath the stadium. We got our first glimpse of the locker room, weight room, players lounge and training room. We met AJ, who is our clubhouse manager, and got to discuss the important things like jersey numbers and pant sizes. We immediately got a good vibe from AJ, who was quickly joking around with Joe, picking up on stories from last year when Joe made his debut here. I picked a locker that would give me optimal access to one of the TV's on the wall of the locker room. I avoided corner lockers, because as I found out last year they always become overcrowded. We threw some of our stuff that we had shipped to Fort Wayne into our lockers and then went back to the hotel for dinner. Our next few days consisted of practices, media day and an autograph session which were all a lot of fun. We got to do those TV introductions that the big league guys always do, staring into the camera and giving our best "Hi I'm ____ and this is Fort Wayne TinCaps baseball on Xfinity!" We goofed around like we always do when any of us is in front of a camera. Before we knew it we were packed and on the road for our first trip of the year.
Opening Day was in Michigan at the home of the Great Lakes Loons, the Class A affiliate of the Dodgers. We played a four-game series in freezing cold weather which included wind, rain and even a little bit of snow. We took the first three games, including one awesome 9th-inning comeback in which we went from down 2-0 to winning 6-2 in what seemed like a matter of 30 seconds. The final game was a bad one: we didn't hit, pitch or defend the way we are clearly capable, and we got thumped pretty bad. The highlight of the series for me was having my Dad there to finally get to see me play in a professional uniform. When I signed, I immediately went to Arizona and then off to Oregon for the summer so I had never been anywhere close enough for him to make the trip. It was really cool for me to be able to leave him tickets at Will Call (even though I totally forgot the 2nd time to rewrite the pass list) and to have him see me play. It was interesting that just 5 years earlier we had stumbled across the exact stadium en route to a recruiting visit at Central Michigan University. Baseball has a funny way of writing stories that all end up tying together. This was a pretty special one for me, and I am incredibly thankful that he was able to come down for the weekend. Hopefully, next time the weather won't be so awful and there might be a better crowd to have a little atmosphere.
We're currently in Grand Rapids, Michigan, finishing up this 7-game road trip tomorrow night with another game against the West Michigan Whitecaps (Class A affiliate of the Detroit Tigers). We will then hop back on the bus and head home to Fort Wayne, where we open up our home schedule Thursday night at Parkview Field. I put a reminder in my phone to write every third day starting Friday, when I'll recap our trip home and our Home Opener! Until then, it's back to waiting out the rain here in Grand Rapids, as our middle game has been washed out for the day. Back at it tomorrow, Go TinCaps!
# # #
Join our mail list and get Jewish Baseball News delivered to you by e-mail!
Check out our daily Jewish Box Score via Twitter or Facebook!