September 22, 2011 (Thursday)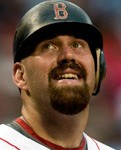 JEWISH BASEBALL NEWS — Lower back strain. Hip bursitis. A hernia that will require off-season surgery.
Much like last year, injuries have kept slugger Kevin Youkilis out of the Boston Red Sox lineup for a good chunk of 2011. Through Wednesday, the 32-year-old infielder had sat out 36 games and was on pace to have his second fewest at-bats since 2005.
Evidence of the strain has been greatest on his batting average. A career .289 hitter who topped .300 each of his past three seasons, Youkilis currently is batting a career-low .258 and already has grounded into a career-high 14 double plays.
But a statistical review suggests the three-time All-Star's performance is more a function of injuries than age, though the two certainly are related.
Consider these points made by Jewish Baseball News reader "AK":
At the All-Star break, Youkilis was hitting .285 with a .399 on-base percentage and .512 slugging percentage, on par with his career averages.
He has fallen off dramatically since then, batting .199 with an OBP of .314 and SLP of .346. As AK says, "One doesn't get old suddenly. So something is up."
Youkilis is hitting far better at Fenway Park — "where presumably he has his trainer/chiropractor/etc.," AK says — than on the road. At home, he's batting .320 with a .426 OBP and .563 SLP this season. Away, he's hitting a mere .191 with a .317 OBP and .349 SLP.
Even ailing, Youkilis has driven in more runs this season (80) than any MLB player with 450 or fewer at-bats. If his body is willing, 2012 could be a great season.
# # #
Planning to buy something on Amazon.com? Use our Amazon link (below) and Jewish Baseball News will get a small commission. It costs you nothing!