Padres' Robert Stock excels in MLB debut
June 24, 2018 (Sunday)
By Scott Barancik, Editor
Robert Stock (Twitter), a 28-year-old reliever who has played for four franchises in his minor-league career, was called-up by the San Diego Padres today and promptly inserted into the 10th inning of a home game at AT&T Park.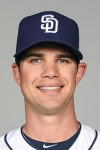 Stock delivered like a seasoned pro, yielding a double on his third Major League pitch but then retiring the next three batters, two of them on on swinging strikeouts.
It was a long time coming for a player once considered the best amateur in the country — and relegated to an independent, non-affiliated league just two short years ago.
Stock was wowing scouts at an early age with his arm and his bat. In 2003, Baseball America named him the best 13-year-old player in the United States. Stock was named best 14-year-old in 2004, by which time he was already six feet tall, throwing in the 90s, and hitting 400-foot homers with a wood bat. In 2005, he was named not only the best 15-year-old but Baseball America's Youth Player of the Year, the first underclassman to earn that honor.
Stock was so good both behind the plate and on the mound that scouts couldn't agree where he belonged. "It might be a 50-50 split with scouts in Southern California which way we like him," one area scout told Baseball America in 2005. "I asked him what he liked most about hitting or pitching and he just said, 'I just love to dominate, whether it be hitting or pitching.' And that's what he does, he just dominates games."
In 2009, the St. Louis Cardinals made the choice for him, selecting Stock as a catcher in the 2nd round of the amateur draft. He squatted behind home plate for three seasons before the Quad Cities River Bandits (Single-A) handed him the ball and pointed him to the mound. It didn't take Stock long to get into the groove, ending the 2012 season with a 5-2 record and a 4.56 ERA.
But his path to the majors was far from clear. The Cardinals released Stock in late 2014. He soon signed with the Houston Astros, but after a frustrating 2015 season that saw him deliver a 7.71 ERA across three levels, Stock found himself playing alongside brother Richard Stock, a former Cleveland Indians prospect, in the independent CanAm League in 2016, then spent the winter playing in Mexico.
Left out of the MLB fold, Stock sent video of his 98 mph fastball to scouts. It paid off. The Cincinnati Reds signed him to a minor-league deal in March 2017, and the right-hander repaid the franchise that season by going 9-5 with two saves and a 2.82 ERA in High-A and Double-A.
After the 2017 season ended, Stock declared free agency and signed with San Diego. He pitched briefly for the Padres' Double-A club in 2018 before becoming the closer for the El Paso Chihuahuas (AAA), where he recorded a 1.93 ERA, held opposing hitters to a .177 average, and converted seven of eight save opportunities.
Stock is the second Jewish player to make his MLB debut this season, after Cincinnati's Zack Weiss. We wish him a hearty Mazel Tov.
# # #
Get your Jewish Baseball News updates via e-mail!