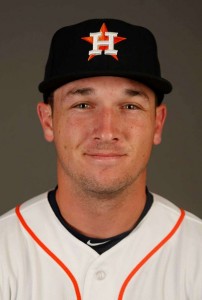 By Scott Barancik, Editor
Scarcely a year after being drafted by the Houston Astros, red-hot prospect Alex Bregman is being called-up to the Majors. He is expected to make his MLB debut tonight against the Yankees in New York.
A 22-year-old shortstop from Albuquerque, NM, Bregman has made quick work of the minors. After hitting a combined .294 last season with 4 HRs and 34 RBIs in Class A and High-A ball, in 2016 he's added power, hitting a combined .306 with 20 HRs, 61 RBIs, and a .986 OPS, second-base among all full-season minor-leaguers. Bregman walks more than he strikes out, runs the bases intelligently, can play both shortstop and third base, and has confidence to spare.
It's no wonder Minor League Baseball recently named him the top offensive player at midseason among all pro prospects. Bregman also has shined in showcase games, falling a home run short of the cycle in the All-Star Futures Games this month and going 2-for-3 in the Texas League All-Star Game. In his first game at Triple-A, he went 4-for-5 with 3 RBIs and a walk.
"It's a dream come true," Bregman told MLB.com about the call-up. "And I'm ready to go work, keep my mouth shut and hopefully help contribute."
With teammate Jose Altuve well settled at shortstop, Bregman is expected to get playing time at third base, left field, and as designated hitter. MLB.com columnist Jim Callis enthused about the LSU alum yesterday:
"Wherever he plays, Bregman is equipped to be a star. There's no weakness in his offensive game, as he has outstanding bat speed from the right side of the plate and has complete control of the strike zone. He barrels balls consistently, and since he has made an adjustment to attack and turn on pitches on the inner half of the plate since turning pro, he could hit 25 homers per season.

Though he has elicited comparisons to Dustin Pedroia for years because he has similar size and plays with the same chip on his shoulder, Bregman has more speed and defensive versatility. He's an average runner with excellent instincts on the bases. He's capable of playing at least an average shortstop, and his solid arm and gift for anticipating plays could make him a plus defender at third base."
Bregman is the second Jewish player to get a call-up this season. In May, the New York Yankees called up P Richard Bleier, who had spent, by comparison, a biblically long nine seasons in the minors.
Bregman will be the second Jewish player on Houston's 25-man roster, joining veteran hurler Scott Feldman. Of all 1,215 players drafted in 2015, he will be the first position player (and third player overall) to reach the Majors.
The Astros play the Yankees tonight at 8:10 ET, with Houston's Dallas Keuchel facing Michael Pineda. Houston (54-44) is in second place in the A.L. West, 2.5 games behind Texas.
# # #
Have our news updates e-mailed to you for free