August 16, 2011 (Tuesday)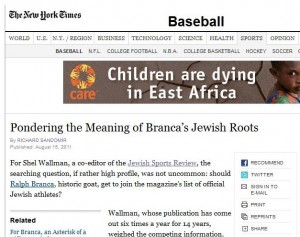 JEWISH BASEBALL NEWS — We're not publicity hounds by any means. But for a Jewish-oriented publication like Jewish Baseball News, getting a mention in the New York Times like we did today (8/16/2011) is a milestone of sorts (see article).
Times sports reporter Richard Sandomir had interviewed people such as lawyer Alan Dershowitz and JBN editor Scott Barancik for their reaction to Monday's news (8/15/2011) that former Brooklyn Dodger P Ralph Branca's mother was Jewish — and that Branca himself, a devout Catholic best known for serving up Bobby Thomson's pennant-winning home run in 1951 claimed he didn't know it until author Joshua Prager told him.
A key question for Sandomir was whether entities that track Jewish athletes would add Branca to their all-time lists of Jewish major leaguers. For most, the answer was 'No.' Such lists typically are limited to players who had Jewish parentage and did not practice another religion.
Would Branca even want to be included on such a list? If he were, his 88 career wins would land him within the top 10 among Jewish pitchers.
Read Prager's heartwarming article here.
# # #
Planning to make a purchase at Amazon.com? Support Jewish Baseball News by using our link, below. It costs you nothing but earns us a small commission.