By Scott Barancik, Editor
If the 2017 minor-league season were a wine, it would be a good year.
Three pitchers — Ryan Sherriff of the St. Louis Cardinals, Brad Goldberg of the Chicago White Sox, and Max Fried of the Atlanta Braves — made their Major League debuts.
A number of minor-league players — marked with asterisks below — took the field with Team Israel, the feel-good story of the 2017 World Baseball Classic.
Not everything went as hoped. Despite going 2-1 with a 2.48 ERA and a perfect 6 saves in 6 tries this season, Team Israel alum Corey Baker was abruptly released by the St. Louis Cardinals in July. P Rob Kaminsky, a promising 1st-round draft pick in 2013 who missed nearly all of 2015 due to injury, managed just one outing in 2017 before again being placed on the disabled list.
Overall, the picture for Jewish prospects was bright in 2017. Below are 11 players we believe stood out from the pack. A hearty Mazel Tov to them all.
P O S I T I O N   P L A Y E R S
Most Valuable: Braden Bishop, CF (Mariners/AA, A+)
Most players see their numbers dip after a promotion, but the 24-year-old Bishop soared after a late-season bump to Double-A, hitting .336, getting on base in 30 of 31 games, and continuing to perform well both on the basepaths and in the field. The 2015 draftee (3rd round) out of the University of Washington finished the regular season with a total of 22 stolen bases in 27 tries, 11 assists in center and left, and just three errors in 1,022 innings, good for a .990 fielding percentage. And while sabremetric stats are scarce for minor leaguers, Bishop finished among the league leaders in Weighted Runs Created Plus (a catch-all offensive metric that adjusts for league and park). No wonder MLB.com ranks him Seattle's No. 5 prospect.
Most Improved: Andy Yerzy, C (Diamondbacks/Rookie)
Plucked out of high school in the 2nd round of the 2016 draft, Yerzy struggled in his debut season, hitting just .216 in Rookie ball and managing only one home run despite a reputation for power. But 2017 was another story for the 19-year-old Canadian, whose 6'3″ stature is unusual for a catcher. Yerzy hit for average (.298), consistency (.365 on-base percentage), and power (13 HRs, or one in every 17.3 at-bats). Team officials also praised his work ethic and growing knowledge of the game, one reason MLB.com ranks him Arizona's No. 24 prospect.
Top Rookie: Zane Gurwitz, 2B (Angels/A, Rookie)
A 5'8″ recruit from the University of Texas, Gurwitz wasn't selected until the 26th round of the 2017 amateur draft. But the Angels had to be pleased with the his first season of pro ball. The 22-year-old hit .386 in the Arizona Rookie League — tops among batters with 90-plus plate appearances — and contributed 2 HRs, 17 RBIs, 7 stolen bases and a .449 on-base percentage. A brief sojourn in Single-A ball didn't go as well, precipitating his return to Rookie ball.
Best Comeback: Blake Gailen*, CF (Dodgers/AA)
Gailen has spent much of his career as an underdog. Undrafted out of college in 2007, the 5'9″ outfielder started in independent ball and has bounced back and forth between there and the MLB-affiliated minors ever since. He's picked up plaudits along the way, including being named Independent Leagues Player of the Year in 2012 by Baseball America and starring for Team Israel in the 2017 World Baseball Classic. After the Dodgers signed Gailen to a minor-league contract in late June this year, the 32-year-old rewarded the franchise with a .300 season, contributing 7 HRs and an impressive 35 RBIs in just 150 at-bats and ranking #2 in Weighted Runs Created Plus among Texas League (AA) batters with 150-plus plate appearances.
Most Likely Call-Up: Zach Borenstein*, LF (Diamondbacks/AAA)
In his second full season at the Triple-A level, Borenstein improved in every offensive category but stolen bases. The 27-year-old Illinois native boosted his HR count from 9 to 24, his RBIs from 57 to 91, and his Weighted Runs Created Plus from 104 to 132, or 13th best in the Pacific Coast League (AAA). Though he's relatively old for a prospect and strikes out in 29.1% of his plate appearances — #3 in the league — another strong season at Triple-A should ensure Borenstein at least a taste of the Bigs in 2018.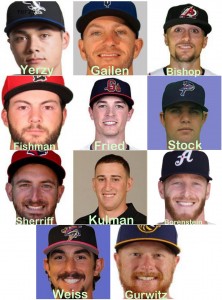 P I T C H E R S
Best Starter: Max Fried, LHP (Braves/MLB, AAA, AA)
Through August 1, Fried was not having a great season. The 23-year-old southpaw was 2-11 with a 5.92 ERA in Double-A, a far cry from the high-school phenom who was selected 7th overall in the 2012 amateur draft. Observers couldn't be faulted for wondering if Fried ever would regain his pre-Tommy John form, an injury that cost him most of the 2014 season and all of 2015. But clearly the Braves' front office knew better. In two Major League stints beginning with an August 8 debut, the rookie outperformed his minor-league self, going 1-1 with a 3.81 ERA and 22 strikeouts in 26 innings for Atlanta.
Best Reliever: Ryan Sherriff, LHP (Cardinals/AAA)
A 28th-round pick in the 2011 draft, Sherriff has made a career of beating expectations, and 2017 was his time to be rewarded for it. The 27-year-old southpaw spent most of the season in Triple-A, where he went 2-1 with a 3.19 ERA, 6 saves in 7 chances, struck out nearly a batter per inning, and held opposing teams to just 0.99 walks/hits per inning, #4 among Pacific Coast League pitchers with 50-plus innings. After a late August call-up to St. Louis, Sherriff went 2-1 with a 3.14 ERA and 15 walks in 14.1 innings.
Most Improved: Jake Fishman, LHP (Blue Jays/A, A-short season, Rookie)
Drafted out of a Division III college in 2016, Fishman looked like it in his first pro season, going 0-1 with a 4.80 ERA and getting hit at a .328 clip by opposing Rookie-league players. But something clicked in 2017. The 22-year-old southpaw spent most the year in Short-Season ball, where he went 1-0 with a 1.17 ERA and a save. During a subsequent six-game stint in Single-A, his ERA was a less-svelte 4.05, but Fishman struck out 15 batters in 6.2 innings and while walking none. Kansas City Royals prospect Gabe Cramer* came a close second for this award but didn't get quite enough playing time to capture it.
Top Rookie: Spencer Kulman, RHP (Padres/High-A, Rookie)
Kulman went undrafted in 2017, but San Diego apparently got a bargain when it signed him as a free agent. The 22-year-old righty was the top closer on his Rookie-league team, going 1-0 with a 1.21 ERA, earning 4 saves in 5 chances, and limiting opposing teams to a .160 batting average and 1.03 walks/hits per inning. Kulman even closed out the season with two scoreless relief appearances in High-A. Seattle Mariners draft pick Sam Delaplane, whose 13.7 strikeouts per nine innings ranked #2 in the Arizona Rookie League, was runner-up for this award.
Best Comeback:  Robert Stock, RHP (Reds/AA, High-A)
After a frustrating 2015 season that saw him deliver a 7.71 ERA across three levels, Stock spent 2016 playing alongside brother Richard in the independent Can-Am League. But things turned around for the 27-year-old after Cincinnati signed him to a minor-league deal in March 2017. This season, the right-hander went a combined 9-5 with two saves and a 2.82 ERA in High-A and Double-A. This isn't Stock's first comeback, either. Selected as a catcher in the 2nd round of the 2009 draft, he moved to the mound in 2012.
Most Likely Call-Up: Zack Weiss, RHP (Reds/AA, High-A)
Weiss was Cincinnati's top relief prospect entering the 2016 season, but an elbow injury during Spring Training kept him off the mound the entire year and the beginning of 2017. Still, the UCLA alum made a strong return this season, going a combined 4-5 with a 2.63 ERA, 10 saves in 15 chances, and 12.3 strikeouts per nine innings versus 2.9 walks in High-A and AA. Though the Reds' farm system is stacked with right-handed pitchers, Weiss is an experienced closer at a reasonably young age (25), and he has a good shot of making the Majors eventually.
# # #
Get your Jewish Baseball News updates via e-mail!