Who are they? — (3/30/2023)
March 30, 2023 (Thursday)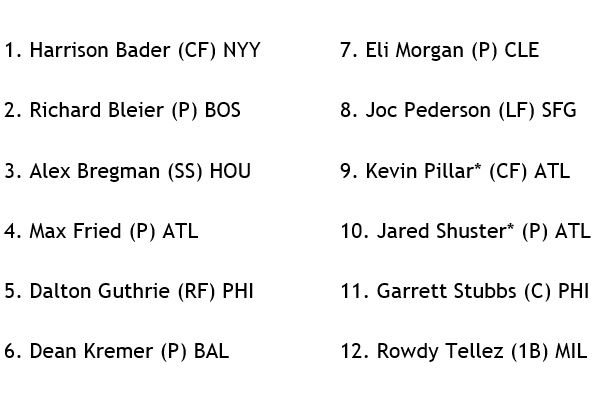 By Scott Barancik, editor
A dozen of the 26 Jews who participated in this year's MLB Spring Training have landed spots on an Opening Day roster.
When the season begins today, the Atlanta Braves will lead the pack with three players. They include starting pitchers Max Fried and Jared Shuster along with veteran outfielder Kevin Pillar, who will be playing for his seventh Major League franchise.
Fried is Atlanta's #1 starter and took the mound today against the Washington Nationals to kick off the 2023 regular season. Unfortunately, he left during the fourth inning with a possible leg injury. The Braves were up 4-`1 at the time.
Shuster, a 24-year-old southpaw, is the lone first-timer among the dozen. He will make his MLB debut in an April 2 start.
RF Dalton Guthrie (Phillies) technically remains a rookie despite hitting .333 in 21 at-bats last season. Joining him on Philadelphia's roster is veteran catcher and Team Israel member Garrett Stubbs.
Yankees reliever Scott Effross almost certainly would have appeared on his team's Opening Day roster if not for Tommy John surgery. The right-hander could well remain out of action the entire 2023 season.
The athletes who did not catch on with their respective MLB franchises include veterans and top prospects. Some may well be brought up later in the season.
One likely call-up is veteran Ryan Sherriff (Red Sox), who tossed 6.2 scoreless innings this Spring and struck out 8 while walking none. Another hurler who may get the call is Kenny Rosenberg (Angels), who made his MLB debut last season. The Cal-State Northridge alum went 1-1 this Spring with a 2.79 ERA and a sizzling 14 strikeouts and zero walks over 9.2 innings.
Several prospects also turned heads in MLB Spring Training.
2B/3B Zack Gelof (Athletics) was sent down to Triple-A despite hitting .320 (8-for-25) with a .414 on-base percentage. 1B/LF Spencer Horwitz (Blue Jays) hit .333 (6-for-18) with 2 RBIs. 1B Jake Scheiner (Mariners) batted just .167 (5-for-30) but showed power with 3 HRs.
In 2022, a total of 17 Jewish players appeared in at least one MLB game.
If tracking Jewish ballplayers is your thing, check out our Jewish Box Score. Located on the Jewish Baseball News home page, it features daily, in-game updates on your favorite players. Meanwhile, our Season Stats box, updated daily, shows cumulative player statistics for every season since 1871.
# # #
For the latest information from Jewish Baseball News, follow us on Facebook, Twitter or Instagram
You also can get selected updates via e-mail