August 24, 2021 (Tuesday)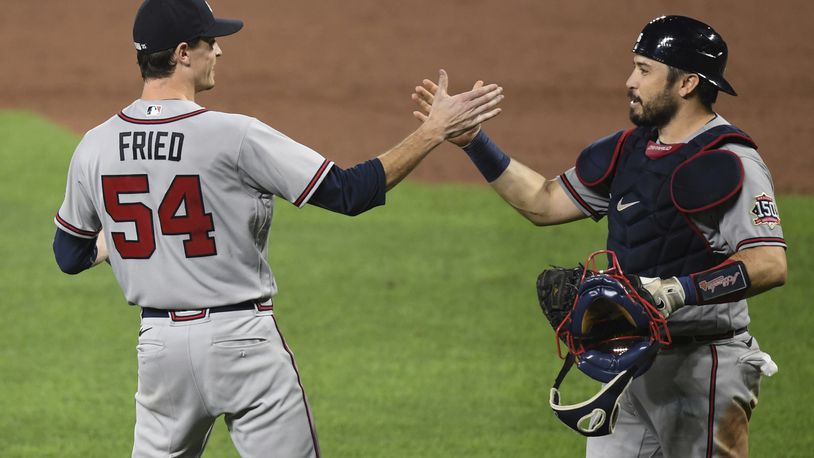 Mazel tov
Max Fried (Braves) pitched a gem on August 20, a 9-inning, complete-game shutout over the Orioles. Thanks to two double plays, Fried faced only 29 batters, two over the minimum. A leaping catch by teammate Joc Pederson also helped.
The Forward published an article titled "100 years of baseball on radio, a century of Jewish announcers." Among the talent cited: Dolly Stark, Howard Cosell, Mel Allen, Marty Glickman, Sandy Koufax, Bob Wolff, Al Michaels, John Sterling, Gary Cohen, and Howie Rose.
Stats to share
Last week was all Max Fried:

On August 20, Fried became only the third Atlanta hurler since 1988, the year statisticians began recording pitch counts, to toss a complete-game shutout with 90 or fewer pitches. The other two: Cy Young award winners Greg Maddux and Tom Glavine. Maddux was the last to accomplish the feat, nearly 20 years ago (9/13/2000).
Fried is hitting .342 with a .390 OBP (on-base percentage) so far this season. If he finishes the year at those levels, he will land in the Top 50 seasons of all time in both categories. Fried also would become only the third starting pitcher in the 2000s to hit .342 or better.

Fried may be on pace to win this year's Silver Slugger award for pitchers. If he does so, according to author Bob Wechsler, Fried would become only the 4th pitcher in MLB history to earn a Silver Slugger award, a Gold Glove award, and finish among the top 5 in Cy Young award voting. The only pitchers to accomplish the feat are Fernando Valenzuela, Mike Hampton, and Adam Wainwright.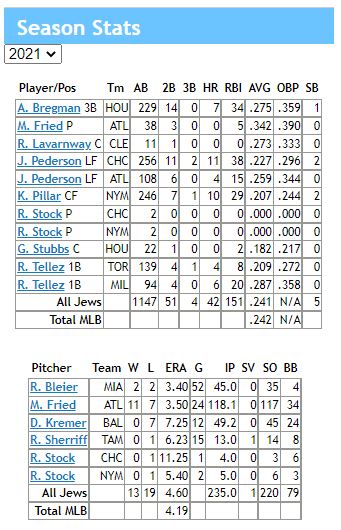 Weekly overview
Jewish batters hit a combined .133 (6-for-45) last week, with 2 HRs, a double, 5 RBIs, and a .170 OBP. The performance lowered their collective batting average from .245 to .241, versus the Major League average of .242.
Jewish pitchers went 1-0 with a 0.00 ERA last week, yielding 5 hits and zero walks over 10 combined innings. The performance lowered their collective ERA from 4.80 to 4.60, versus the Major League average of 4.19.
At the plate
CF Kevin Pillar (Mets) hit .182 (2-for-11) with a HR and a .705 OPS (on-base plus slugging). His 3-run, go-ahead shot at Oracle Park on August 18 led to a 6-2 win over the Giants, a team he played for in 2019.
LF Joc Pederson (Braves) hit .133 (2-for-15) with a home run, 2 RBIs, and a .521 OPS.
1B Rowdy Tellez (Brewers) hit .105 (2-for-19) with a double and a .263 OPS.
On the mound
Max Fried's August 20 gem marked the fourth win in his last four outings and the second complete game of his career. Over 9 innings, the lanky southpaw yielded four hits and zero walks while fanning 4 (see video).
Richard Bleier (Marlins), normally a bullpen stalwart, pitched only once this week, most likely due to his recent struggles on the mound. In a one-inning stint on August 20, Bleier held the opposition scoreless, yielding one hit and no walks.
Players to watch
Transactions
Injured list
P Robert Stock (Mets), right hamstring strain, since July 21. Out for the season.
3B Alex Bregman (Astros), left quad strain, since June 17.
# # #
For the latest information from Jewish Baseball News, follow us on Facebook, Twitter or Instagram
You also can get selected updates via e-mail