Mazel tov
Team Israel's dream of an Olympic baseball medal ended August 3 with a 7-6 loss to the Dominican Republic. Israel finished the miscue-laden tourney with a 1-4 record, including a 12-5 win over Mexico and a pair of one-run losses. But reaching the Olympics was an accomplishment that cannot be diminished. "I don't think it's so much about beating Mexico," C Nick Rickles said after Israel's lone victory. "I think it's a lot to just raise awareness for baseball in Israel. For me, I was just taking in the moment and seeing after the game the amount of love that we received from people back in Israel. We had messages on top of messages from people just saying thank you."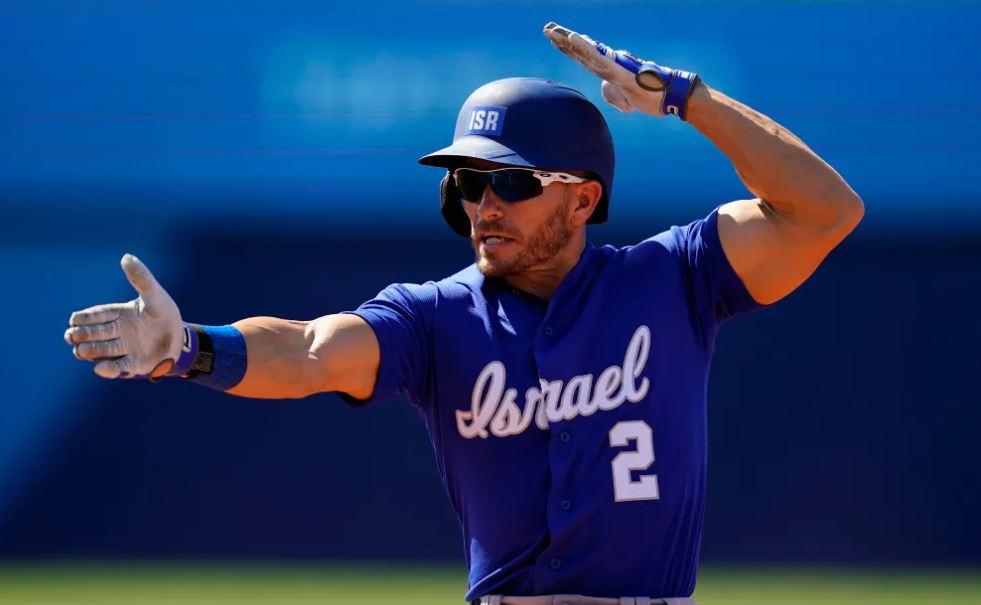 Stats to share
1B Rowdy Tellez (Brewers) has upped his game since leaving the Blue Jays, the franchise that selected him in the 30th round of the 2013 draft. In 139 at-bats with Toronto this season, Tellez hit .209 with 4 HRs, 8 RBIs, and a .610 OPS (on-base percentage plus slugging). Just 46 at-bats into his tenure with the Brewers, however, Tellez is hitting .326 with 4 HRs, 12 RBIs, and a 1.038 OPS.
Jewish players on opposing teams faced off against one another several times last week. On July 28, for example, Braves starter retired Mets LF Kevin Pillar three times, including once on a swinging strike. Pillar returned the favor, catching two fly balls lofted by Braves RF Joc Pederson.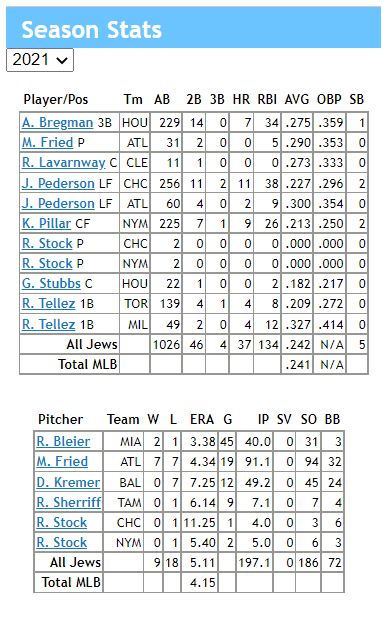 Weekly overview
Jewish batters hit a combined .270 (17-for-63) last week, with 2 HRs, 6 RBIs, and a .375 OBP (on-base percentage). The performance lifted their collective batting average from .241 to .242, versus the Major League average of .241.
Jewish pitchers went a combined 0-1 with a hold, 2 blown saves, and a 3.91 ERA last week, yielding 10 hits, 4 walks, and a hit batter over 12.2 combined innings while striking out 13. The performance lowered their collective ERA from 5.18 to 5.11, versus the Major League average of 4.15.
At the plate
On the mound
Max Fried (Braves) pitched well enough to win in a July 28 start, yielding just 2 earned runs on 5 hits, 2 walks, and a hit batter over 7 innings while striking out 9. But Atlanta scored just one run, dropping Fried's season record to 7-7.
Ryan Sherriff (Rays) tossed 2.2 scoreless innings and earned a hold over 3 appearances last week, yielding a hit and 2 walks while striking out 2.
Richard Bleier (Marlins) went 0-0 with a 16.20 ERA and 2 blown saves, yielding 3 earned runs over 1.2 combined innings and allowing 6 of 11 batters to safely reach base.
Players to watch
P Noah Davis (Rockies/High-A/Spokane Indians) may have made the Reds regret trading him to Colorado. On July 31, in his first start with the Spokane Indians, the 6-foot-2-inch righty tossed a 6.1-inning shutout, yielding just 3 hits and 2 walks while striking out 5.
Transactions
3B Alex Bregman (Astros) began a Triple-A rehab assignment on July 26.
Injured list
# # #
For the latest information from Jewish Baseball News, follow us on Facebook, Twitter or Instagram
You also can get selected updates via e-mail