Watch it live on Father's Day (June 21)
June 5, 2020 (Friday)
By Scott Barancik, Editor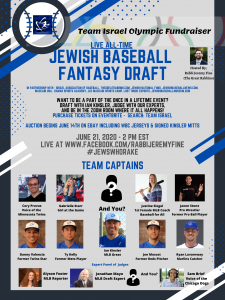 If you could assemble the greatest Jewish baseball team of all time, who would you pick to play?
On June 21, Jewish fans around the world will get to watch live as five celebrity duos — including Team Israel member and former MLB All-Star Ian Kinsler — compete to select the best squad. Eligible players include any Jewish athlete who has reached the Major Leagues, a group that runs the gamut from outfielder Lip Pike (who led the National Association in home runs from 1871 to 1873) to Alex Bregman (who finished 2nd in the A.L. MVP vote in 2019).
The fantasy draft will take place at 2 p.m. (Eastern) on Sunday, June 21, and can be livestreamed here.
The draft will help raise funds for Team Israel's medal quest at the 2021 Olympics in Tokyo. Although you can watch the draft for free, fans willing to pay $50 for a ticket will appear on-screen in the players' Zoom Room and join them and other celebrities in side chats. And on June 14, a 10-day eBay auction of player jerseys and mitts will take place on eBay (details forthcoming).
Participants in the draft will include five current members of Team Israel, plus their partners:
Here's how the draft will work. Five two-person teams will select from the pool of all-time Jewish players listed on Jewish Baseball News. Round by round, each team will pick one player at catcher, first base, second base, shortstop, third base and designated hitter, along with three outfielders, two starting pitchers and two relievers.
Between draft picks, host Rabbi Jeremy Fine (The Great Rabbino) will conduct live interviews with past, present and future players.
Once full teams have been selected, a panel of judges will evaluate the picks and name a winning squad based on how each team theoretically might perform in a bracket tournament. The judges' panel will include MLB.com draft and prospect expert Jonathan Mayo, Houston Astros beat writer and MLB.com correspondent Alyson Footer, and Chicago Dogs play-by-play announcer Sam Brief.
For updates, follow Jewish Baseball News' social-media pages. See you there!
Get your Jewish Baseball News updates via E-mail, Facebook, Twitter or Instagram